Rice Theatre's Fall 2022 Production
"Pride & Prejudice"
By Kate Hamill
Based on the novel by Jane Austen
Directed by Christina Keefe and Skye Bronfenbrenner
October 21-22 & 27-29 at 8:00 PM
October 23 at 2:00 PM, matinee 
Hamman Hall, Auditorium 

Jane Austen's "Pride & Prejudice" one of the single most cherished stories of all time, returns to the stage in a fresh and funky new adaptation which critics are calling "delightfully different," "fizzy and festive," and "unlike any adaptation of Jane Austen one has seen before." Set in Regency England during the last years of the Napoleonic Wars, "Pride and Prejudice" follows the engaging war of words and wit between Elizabeth Bennet and Mr. Darcy as they dance around one another both literally and metaphorically.
 
The matinee performance will include a panel discussion post-performance supported by the Center for the Study of Women, Gender, and Sexuality.
Pride, Prejudice, and Feminism: Gender and Sexuality from Austen to Hamill

Guests are invited to stay for a discussion breaking down the significant changes in character and gender roles from Austen's original literature compared to Hamill's interchanging-gender script.
Audience members can learn more about the literary and historical context of the original Pride and Prejudice and how that information applies to present-day conversations about gender and sexuality. 


For ticket information: Call 713-348-4005 or email hamman@rice.edu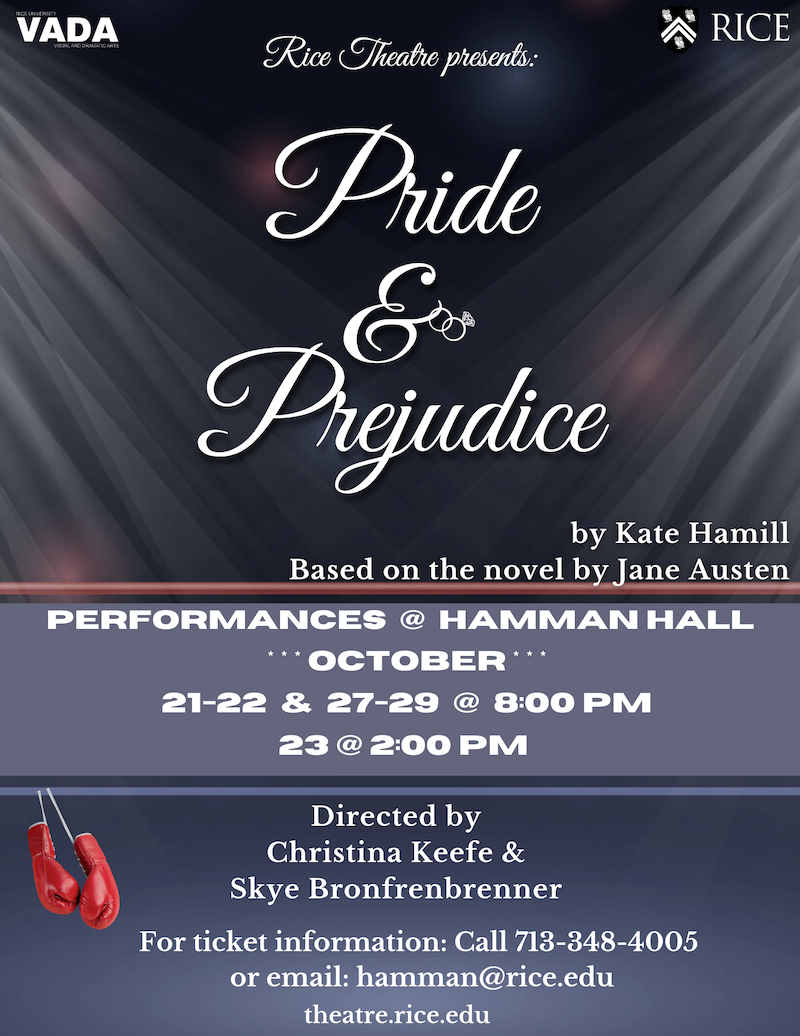 Webpage: theatre.rice.edu
Venue: Hamman Hall
---
Performances are at Hamman Hall, located near entrance 21 off of Rice Blvd.
Hamman Hall Lobby will be open 30 minutes before each performance (at 7:30PM).


Visitor parking information:
https://parking.rice.edu/parking-facilities-and-rates
https://maps.rice.edu/
https://parking.rice.edu/
---
Follow Rice Theatre: facebook.com/RiceTheatre/
Watch Theatre YouTube Videos
Learn about the Rice Players