Rice Theatre presents their fall 2023 production:
Agatha Christie's
"The Mousetrap"
Directed by Skye Bronfenbrenner
Show dates:
October 20-21 & 26-28 at 8:00 PM
Matinee October 22 at 2:00 PM


After a local woman is murdered, the guests and staff at Monkswell Manor find themselves stranded during a snowstorm. It soon becomes clear that the killer is among them, and the seven strangers grow increasingly suspicious of one another. A police detective, arriving on skis, interrogates the suspects: the newlyweds running the house; a spinster with a curious background; an architect who seems better equipped to be a chef; a retired Army major; a strange little man who claims his car has overturned in a drift; and a jurist who makes life miserable for everyone. When a second murder takes place, tensions and fears escalate. This record-breaking murder mystery features a brilliant surprise finish from Dame Agatha Christie, the foremost mystery writer of her time. Rice Theatre is excited to perform their run of the world's longest-running play.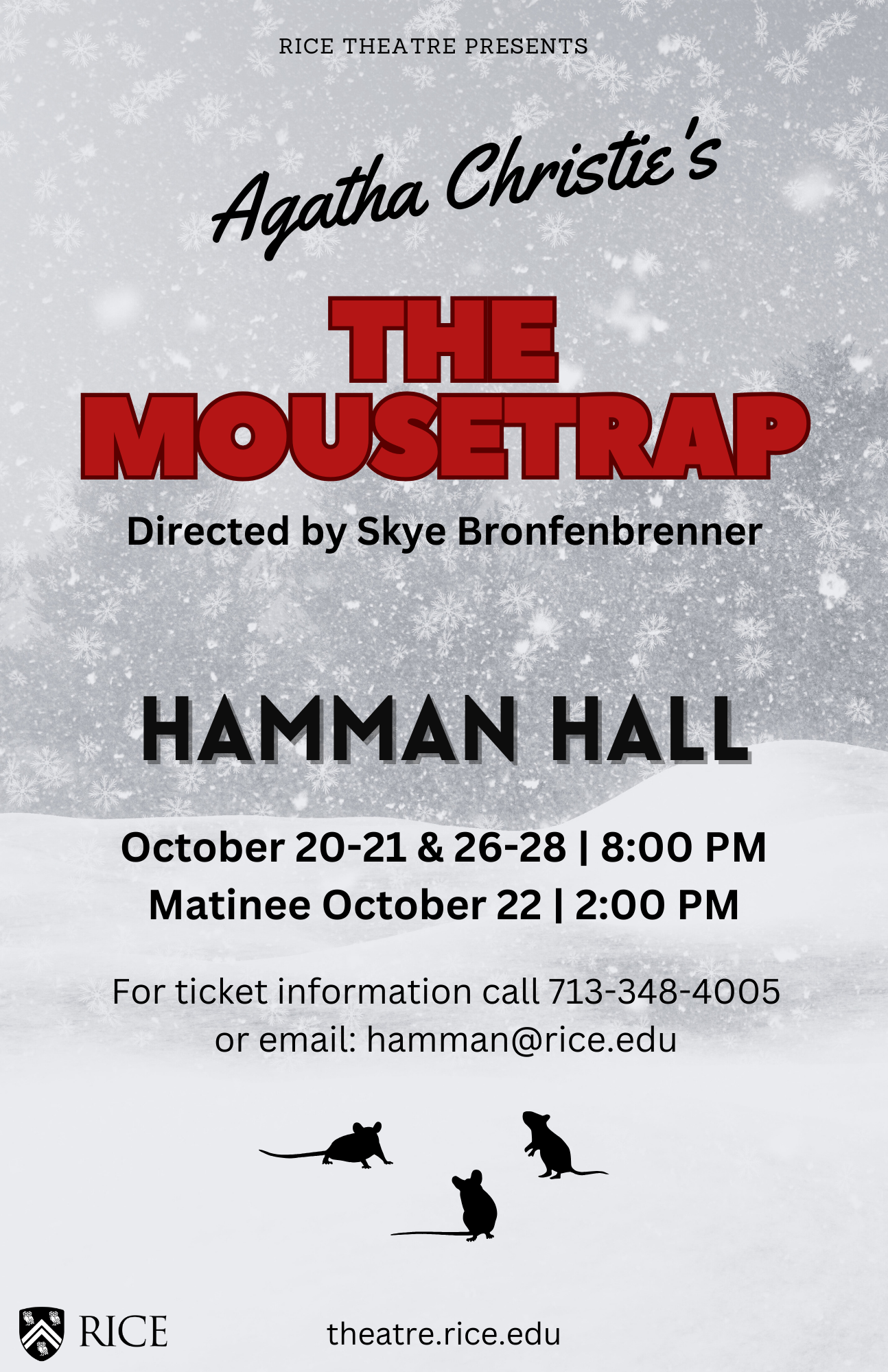 ---
The Rice Theatre Program produces two stage productions per year, one in the fall and one in the spring.
Performances are at Hamman Hall, located near entrance 21 off of Rice Blvd.
Hamman Hall Lobby will be open 30 minutes before each performance.
Call 713-348-4005 for ticket purchasing and venue info. Tickets may be purchased upon arrival at the box office. Hamman Hall Lobby will be open 30 minutes before each performance (at 7:30PM).
Follow Rice Theatre: facebook.com/RiceTheatre/
Watch Theatre YouTube Videos
Learn about the Rice Players
---